---
World's Leading Expert in LED Monitors


It's true. Now, there's an LED monitor for everyone.

BenQ – the world's leading LED monitor brand – invites you to witness the splendid beauty of this world with its all new LED monitors. The BenQ LED monitors are built with revolutionary LED backlight technology to offer only the best picture quality for your personal visual enjoyment. With a full lineup of the BenQ LED monitors to complement your personal lifestyle, things are certainly lookin' great!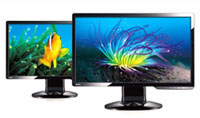 BenQ LED Monitors
Slim and Energy-Efficient with Brighter Picture Performance
Stylish and Slim Design that Fits You Perfectly
Built with the latest LED backlight technology to create an ultra-slim, elegant shape, the BenQ LED monitors add modern sophistication to your living space.
Ultra High Dynamic Contrast for Depth and Definition
The BenQ LED monitors come with an ultra-high dynamic contrast ratio of 5,000,000:1 to add color depth and definition to darkened and complex visuals, so that everything you see – from the brightest white to the darkest black – is perfectly rendered to deliver the most incredible picture performance.
Splendid Color Presentation in Every Little Detail
With the help of LED backlight technology and its capability to promptly address the lighting changes, every image detail is perfectly rendered with optimized color and brightness performance without light leakage even in darkened scenes. This is especially true for the black and yellow color gamut.
Performance-Steady Right at Start
The BenQ LED monitors are backlit by performance-steady LEDs to give you the most stable brightness and flicker-free settings. Their instant-on capability boosts operational efficiency, keeping everything is picture-ready from the moment you turn on your screen.
Energy Efficient and Money Saving
With global warming worsening, it's even more important to cut down CO2 emissions! The BenQ LED monitors can reduce power consumption by 71% in comparison to traditional monitors, saving you energy as well as money.
Mercury-Free for Extended Use and Waste Reduction
LED panels are mercury-free – which means they won't pollute the water during manufacturing or recycling process. Since LEDs are known for their durability, this monitor is practically maintenance-free.
BenQ Senseye® Human Vision Technology
With 6 Proprietary Techniques to Calibrate a Perfect Picture.
Thanks to Senseye® Technology and its six proprietary calibration techniques, the BenQ LED monitors now display the truest colors via the five pre-set modes – Standard, Movie, Game, Photo, sRGB. You can get the best viewing quality fitting to your everyday needs. What's more, addition of Eco Mode helps to save on your total power consumption.