Education Flat Panel Displays Buyers Guide
Choosing an Interactive Flat Panel or Commercial Display for your School.
Welcome to the Just Monitors Education Digital Display Buyers Guide. Here we provide some information to help you select the right digital display for your school or education facility. If you have any other questions that are not answered here, or on our FAQ page, please contact our friendly staff for help.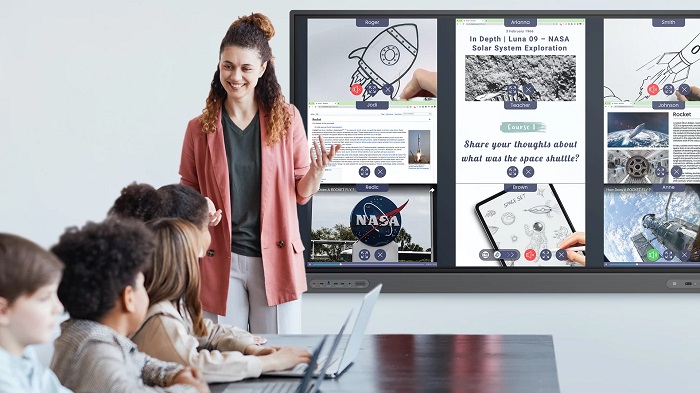 What Display Type is right for me?
[top]
There are 4 types of digital displays commonly used throughout the modern school or campus, these are:
Interactive Flat Panel Displays
Touch Screen Displays (also sometimes called 'Dumb' Panels)
Commercial Displays (also called Digital Signage Displays)
Projectors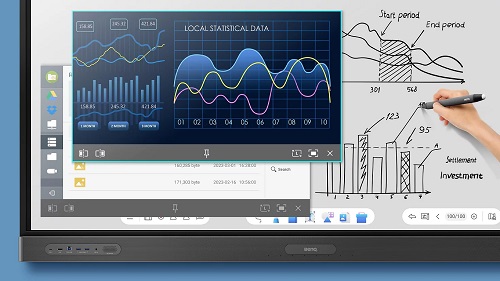 An Interactive Flat Panel (IFP) is the newest and most feature rich display type available today. These are typically available in sizes ranging from 65" up to approximately 100" and, not only offer touch screen functionality but also an inbuilt operating system containing a range of helpful software applications (apps). In addition to being able to use this display as a touchscreen Whiteboard, you can save lessons to the cloud, share to absent students, and utilise a wide range of educational tools.
Touch Screen Displays are similar to the above Interactive Flat panels but without the inbuilt software. These tend to come with some price savings but would require a separate computer connected to get full usability.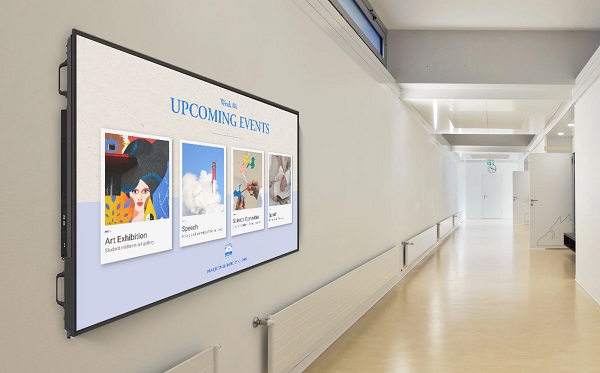 Commercial Displays, also called Digital Signage Displays, have a wide range of applications but are mainly used in public areas to display important information. In education facilities they are commonly used in corridors or building entrances to display information to students or visitors. Many of these panels can be connected to a local network to allow an administrator to broadcast the latest news/updates or emergency information where required. Commercial Displays can also be used in meeting areas as a non-interactive device to display presentations from a computer.
Projectors are great for large areas, such as the school hall or concert venue. Many can display huge images of over 6 metres wide, well beyond the size of a typical flat panel display. If you require portable display a projector may also be a good option for you as most are only a few kilograms. If you are interested in a projector, please visit our specialist website www.justprojectors.com.au .
The best digital display technology will depend on the space where the device will be used. For a hall a projector is usually best, for a classroom an interactive flat panel is the most common, and for information displays around campus then a Commercial Display is for you.
What size should I choose?
[top]
Interactive Flat Panel (IFP's)
Interactive Flat Panel Displays are usually available in 65", 75", and 86". A typical 65" panel provides a total panel width close to 1.5 metres, more than adequate for use in small classrooms or tutorial rooms.
A 75" sized panel width comes to just over 1.7 metres and would be recommended for classrooms containing 20-25 students, whilst an 86" sized panel jumps you up to over 1.9 metres wide and is perfect for 30+ students. There are other factors that will determine panel size too, these could include any installation constraints you may have (such as physical space on the wall), the available budget, and if any portability requirements exist. If you require your flat panel to be placed on a trolley for portable use around your school, then a smaller 65" size will be easier to manoeuvre than an 86".
Commercial Displays / Digital Signage
Commercial Displays and Digital Signage panels are usually available in sizes ranging from 32" right up to approximately 100". A 32" sized panel will give you a total panel width close to 70cm, a 55" would give you a width close to 120cm, and a 75" would give you a width close to 165cm.
For a digital signage installation in a narrow corridor, a smaller size display of 32-43" would be perfectly acceptable. In this type of installation, the viewer would be very close to the display so the benefits of a larger panel would likely be minimal. If your signage is set up at the end of a corridor, and you wish viewers to easily see the panel from a distance, then it makes perfect sense to install are larger display. For digital signage in larger multipurpose areas a panel size of 65"+ would be recommended.
What Resolution do I need?
[top]
The resolution of a digital display panel is a specification that tells us how many pixels (or dots) will be making up the image. The more pixels in the display, the higher the 'resolution'. A higher resolution results in a more detailed and smoother image. The resolution specification will be shown as a number of pixels wide vs high, however to make life easier the industry refers to commonly used resolutions by a name such as HD, FULL HD, 4K, or UHD.
The 2 most common resolution used in digital displays are
1080p – 1920x1080 (also called Full HD)
2160p – 3840x2160 (also called 4K or UHD)
The 4K resolution is a significant jump up from from FULL HD, in fact the 4K resolution is exactly 4 times the resolution of Full HD. One 4K display would supply the equivalent detail of 4x FULL HD displays. Most large displays will use the 4K resolution however some smaller displays will use a FULL HD resolution (often there is little advantage in having a 4K resolution on smaller displays).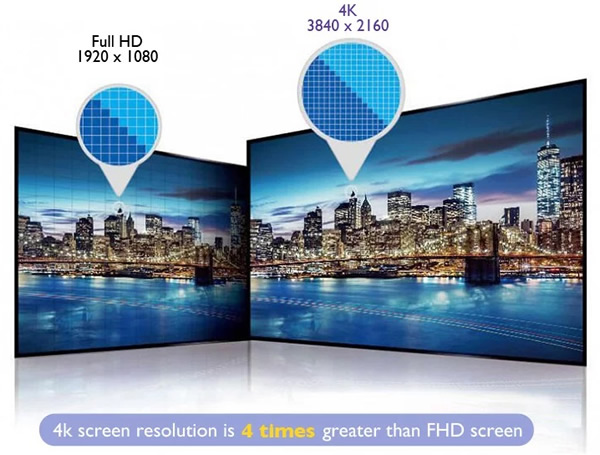 What connections can I expect on my display?
[top]
The most common connection you will find on a digital display is HDMI. The vast majority of digital displays will feature at least 1 of these ports. A HDMI port allows you to connect your computer, media player, set top box, or Blu-ray player directly into your display. If you computer does not feature a HDMI port, you likely can use an adapter from a different connection such as USB-C.
USB is another type of common connection you can expect, but there are a few different types of USB. USB-A is the USB port most of us are familiar with. This type of port is what a USB Memory stick would plug into. Many panels can read select files straight from a USB memory stick. The USB-B port is generally only featured on the interactive or touch screen displays. This port transmits the 'touchscreen' data from the panel to your computer, allowing you to control your computer by touching the 'touch screen' display. When using this port you will also need to have a HDMI cable connected in order to send the video signal to the display. The USB-C connection type allows you to connect a USB-C device, such as a modern computer, into the display. USB-C allows for high speed transmission of data, video, and even power back and forth.
Network connectivity is also common on modern displays. Most displays will feature a LAN connection, allowing you to plug your panel directly into your network for control and maintenance purposes. Many interactive type of displays also come with Wi-Fi connectivity, allowing you to connect to your local Wi-Fi network to access the internet and cloud files.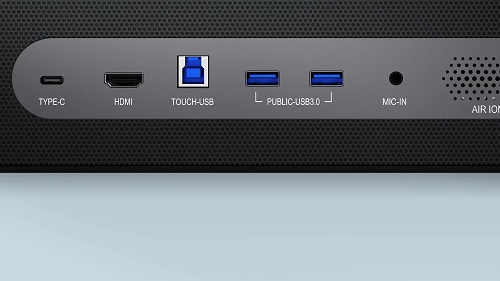 Can I transmit to my display wirelessly?
[top]
Support for wireless casting is usually included on Interactive Displays however is not common on digital displays. If your display does not feature casting natively there are plenty of 3rd party add-on devises you can use (such as ScreenBeam, or BenQ's Instashow). Wireless tends to transmit with a slight delay, and with a slight decrease in picture quality (depending on signal strength and the quality of the wireless device in use). If you require the best possible picture quality it is recommended to use a cable.
How long can be display be left on?
[top]
Unlike a home television, which is designed for a few hours of viewing at a time, a commercial display can be used for very long periods of time. Most entry-mid range commercial displays will be rated for 16-18 hours or use per day, some high-end panels are even rated for 24/7 operation.
Could I use a TV instead?
[top]
A television is designed to display TV signals in a home setting, they are not designed for long hours of use, for static displays, or for use in bright areas. Uniformity on TV's is also usually poorer than a commercial display, where you can notice darker areas in the display (particular in the corners). Screen Burn-In is unfortunately more common on Televisions too, whilst Commercial Displays use higher grade panel types that are designed for static displays of images and text. Whilst TV's can be a cheaper option initially, they usually work out to be more expensive in the long run, with increased failure rates and lower quality images.
What is an OPS Slot?
[top]
The OPS (Open Pluggable Specification) Slot is often featured on Interactive Flat Panel Displays. It allows a Slot-In PC to be 'slotted' into the back of the display to offer a wider range of features and a different operating system. At time of writing most Interactive Panels utilise a type of Android operating system included by default. A Slot-In PC could be used to upgrade the panel to a Windows operating system. This upgrade gives you access to a wider range of Windows based apps and can make the device more intuitive to a regular Windows user. Slot In PC's are normally available as an optional accessory, they can easily be installed by the customer at any time with relative ease.
How can my Flat Panel Display be mounted?
[top]
Flat Panel Displays feature mounting holes at the rear of the display, they tend to follow the VESA specification and therefore VESA type mounting brackets are used. When purchasing a wall or ceiling mounting bracket you simply need to ensure you mounting bracket has a weight rating at or above the weight of your panel, you also need to ensure your bracket is compatible with the mounting hole spacing on your panel. The specifications of your panel will advise you the width and height of the mounting holes. Common sizes are 600x400mm, 800x400mm, and 800x600mm.
Flat Panel Displays are commonly installed in landscape only i.e., the same way up as your household TV. Select displays can be installed vertically (or in portrait) mode though. Installing in portrait can create a unique way to display your content to the public plus can be handy if displaying in areas where there are space constraints (such as on a pillar). If this type of installation interests you, it vital you only purchase a panel that is rated for portrait installation.
What displays do you recommend?
[top]
Our staff are constantly researching the latest release interactive flat panels and digital signage displays, looking out for great quality models at great prices. The below list is updated regularly with digital displays our experts believe are the best for schools and education facilities. We know it can be difficult to pick the best one for you so if you need assistance please send us an email with your requirements, we are happy to help.
Flat Panel Displays for Schools
INTERACTIVE FLAT PANEL RECOMMENDATIONS FOR EDUCATION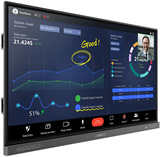 Small-Med Rooms

65" Size

4K Resolution

8GB Memory

Germ Resistance

2 Pens Included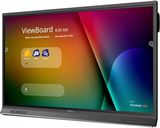 Med-Large Rooms

75" Size

4K Resolution

4GB Memory

5 Year On-Site Warranty

2 Pens Included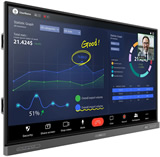 Med-Large Rooms

75" Size

4K Resolution

8GB Memory

Germ Resistance

2 Pens Included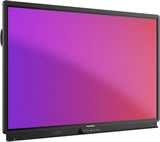 Large Rooms

86" Size

4K Resolution

6.5GB Memory

Powerful Audio

4 Pens Included
DIGITAL SIGNAGE RECOMMENDATIONS FOR EDUCATION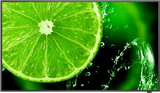 Medium Sized Areas

55" Size

4K Resolution

Portrait or Landscape

16hrs a day usage

USB media reader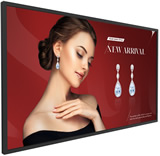 Large Sized Areas

75" Size

4K Resolution

Landscape only

Android Inbuilt

18hrs a day usage

USB media reader